« Death by broken down grocery cart | Home | Sleep-deprived and rambling »
October 23, 2008
My Mommy moment: Rainy days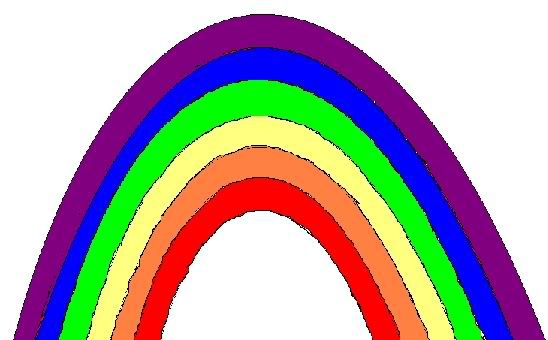 I was driving home from work yesterday and - despite the fact that the dishwasher had sprung a leak the night before, that I'd once again forgotten to pay the cell phone bill, and that Mads has started calling us "you guys" - all just seemed right in the world.
The music was on, the skies were blue, and the leaves seemed suspended in that perfect moment of Autumn, just after they turn and just before they drop to a soggy heap on the ground. Midway through my ridiculously long commute the rain started to fall and by the time I reached my street there was a rainbow overhead.
Now, I live a somewhat chaotic existence. In a way I feel like I thrive on disorder, but I am usually too busy running in crazed circles to know what day it is, never mind to be able recognize when I am in the midst of a somewhat memorable moment. Yesterday was thankfully an exception: I ran into the house and told Mads we were going out. We threw on our jeans, raincoats, and matching navy polka dotted boots - yes, we really are too cute - and headed outside.
We sat crouched at the end of the driveway in the rain looking up at the sunny, stormy sky, and it felt as though there was nothing else in the world apart from me, my daughter and a rainbow. I watched as her serious brown eyes followed the colours across the sky, as she suddenly smiled and said, "Like the Wiggles' rainbow!" Then she announced we were going for a walk, and so we did. I stood in the pouring rain watching as Mads ran back and forth and back and forth through a string of puddles she discovered in a nearby alley. When we finally splashed our way back home, she showed me her tiny red fingers and said that her hands were cold. So I told her we'd make hot chocolate when we got to the house. She stopped dead and stared up at me, confused.
Mads: "What are you saying?" (Mads speak for "WTH are you talking about?")
Me: "Hot chocolate… it's like chocolate milk, but it's warm, and it has marshmallows in it."
Mads: "Oh. Ho-cho-cho-yate... I LOVE that!"
And it turns out she does.
I've seen a lot of rainbows and slogged my way through my fair share of puddles. But last night, in those moments of calm amidst all of the chaos, both seemed almost miraculous. I guess that's what people mean when they talk about seeing the world through the eyes of a child.
Have you had a mommy moment lately?
October 23, 2008 | Permalink
TrackBack
TrackBack URL for this entry:
https://www.typepad.com/services/trackback/6a00e54f9020138833010535af80a2970c
Listed below are links to weblogs that reference My Mommy moment: Rainy days:
Comments
i think that's my favourite post so far care. it was beautiful, i could picture you two in the rain (& yes, it made me cry)but it also just made me realize...i haven't seen the world through my kids eyes in while! so thanks carolyn, sometimes i think we all need a little reminder of how awsome, & fast it all is!
Posted by: brandee | Oct 23, 2008 8:14:45 AM
How funny, I just blogged about this same subject! It's hard to take time to find the joy in life's smallest moments, but when you do it often makes the fondest memories. Very well-written Care, as always:)
Posted by: Bea | Oct 23, 2008 10:47:11 AM
So wonderful - great post.
I cherish these moments of mommy clarity. When you see the bigger picture of teaching your kids to enjoy the moment, instead of focusing on them getting all wet.
We had a rare one last night ourselves. Coming home late from a PTA meeting, the kindergartners did a song (what person with older kids planned that?) - but we got to see the stars together. Not something that happens very often. I loved every single chilly second of it.
Em
Posted by: Em | Oct 23, 2008 11:44:20 AM
This could be my favorite post. So sweet, yet so simple and so true. Great job! Much love!
Posted by: Amber | Oct 23, 2008 11:59:06 AM
One of my favorite moments with The Dictator happens every night when he asks to see the moon before bed. It is such a sweet simple little request yet it makes me smile every time.
My second favorite? Happens every morning when he barges into our room looking for the chocolate milk fairy. AKA Mom. I hate getting up that early but it makes me happy.
Posted by: SleepyNita | Oct 23, 2008 8:15:24 PM
im a fellow SITS member and I was stopping by to invite you to enter my giveaway! If you entered into last weeks your entries count towards this week too. There are also new ways to get more entries.
If you haven't entered yet stop by and get a chance to win 1 lb of gourmet coffee from my new online coffee shop: Get The Bean
To enter visit our blog: www.getthebean.blogspot.com
Posted by: Meaghan | Oct 25, 2008 7:45:09 PM
The comments to this entry are closed.
Subscribe in a reader
deep thoughts
"Having a two-year-old is like having a blender that you don't have the top for." ~Jerry Seinfeld.
follow me on twitter

follow me on pinterest
wise words